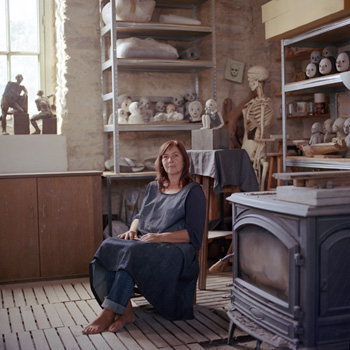 Nathalie Gauglin is a French sculptor.
She was born in 1962 in Versailles, France, the eldest of three children. She spent her childhood in an environment where culture had a prominent place and very early she was interested in artistic expression.

After attending art classes at the Beaux Arts in Versailles, she studied jewellery at the École Boulle in Paris. At the same time she attended dance classes at the Centre de Danse du Marais.
She has continued her passion for artistic creation, first of all in the design of jewellery for various French jewellers, but also in sculpting when she learned stone carving with Maurice Mainguy, stonemason for historical monuments.
Since 1995 she has concentrated on sculpture and she tirelessly explores life and emotions. Her works are part of an exploration of the human.
She uses clay as medium for her sculpture, and she has recently started to produce fine art bronzes of her pieces.

She lives and works in a village in southern Brittany between Nantes and Rennes, and she is the mother of three children.

Nathalie Gauglin has exhibited in France, Europe and Asia at many art fairs and galleries. Her work can be found in public and private collections including the Art Museum of Le Mans.
Artistic Experiences

Studies of Visual Arts at the National School of Fine Arts in Versailles from 1977 to 1979.

Graduate of the Ecole Boulle (Nicolas Flamel) Paris 75003 Sections Jewelry, Silversmiths 1979-1982.

From 1983 to 1995 working in jewelry, many achievements in creating designs for various French jewelers.
Meanwhile in 1988-1992 following the teaching of French sculptor Maurice Manguy (stonemason for historical monuments).

Since 1995 the sculpture is her main study.

In 2005 she moved into her own artist studio.