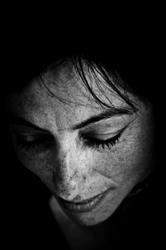 Nathalie Gauglin, Parisian origin living in Nantes for many years.
Eldest in a family of three children, Nathalie Gauglin was born in 1962 at Versailles, a sound engineer father and a journalist mother. She spent her childhood in an environment where culture has a significant and very soon she became interested in artistic expression.
Her first passion, from an early age was the dance, or art of moving the body in a certain agreement between space and time. A passion that never left her, just like music.
At 10 years old, she was making plaster molds in the design studio acoustic Elipson, where her father designed the famous speakers.
After attending art classes at the Beaux Arts de Versailles, she enters Nicolas Flamel school in Paris (section silver-jewelery, Ecole Boulle).
She received first prize at international award "Platinum" for the creation of a brooch - an empty cage bird-shaped, platinum and sapphire - which is presented at the Musée des Arts Decoratifs in Paris.
Nathalie Gauglin left Paris at 18. She continued her passion for artistic creation, first in the design of jewelry for various French jewelers, but also in sculpting when she learned stone carving with Maurice Mainguy, a stonemason for historical monuments.
From 2001 to 2005, she created her own company of designing, and produces sets for photographers of advertising agencies.
Thus, encounters had a great impact on her life, which provided the opportunity to exercise her talents with institutional authorities through workshops, as a sculptor at CHS Blain, then with a group of young mentally deficient adults.
Artist in residence since 2005 at the Castle Groulaie at Blain (Loire Atlantique, France), she put a lot of effort into converting a outbuilding into an artist studio.
Nathalie Gauglin tirelessly explores life and emotions. Her works are part of an exploration of human. " It reveals, through her clay characters, the sensitive and intimate perception of the human. Male, female, whole or fragmented bodies, give expression with a density that is melancholy and silent, the emotions that shape us " (Fabienne Deletang)
Artistic experiences

Studies of Visual Arts at the National School of Fine Arts in Versailles from 1977 to 1979.

Graduate of the Ecole Boulle (Nicolas Flamel) Paris 75003 Sections Jewelry, Silversmiths 1979-1982.

From 1983 to 1995 working in jewelry, many achievements in creating designs for various French jewelers.
Meanwhile in 1988-1992 following the teaching of French sculptor Maurice Manguy (stonemason for historical monuments).

Since 1995 the sculpture is her single research.

In 2005 moved into her artist studio.